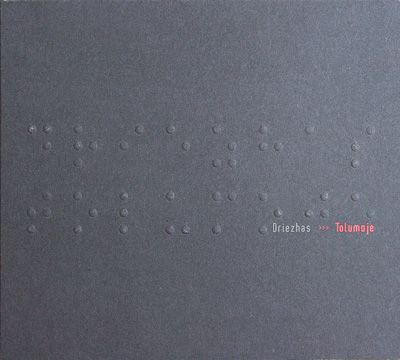 DRIEZHAS - Tolumoje
("Far Off") (CD and instant download)
This album by "Driezhas" project took a long time to mature. Ten compositions contained in this emotional album help the listener to escape the daily routine.  One  experiences deep feelings  while  being submerged into unseen fantasies. Thus the name of the album – "Tolumoje" ("Far Off'). The ideal is  reinforced by the writing in Braile alphabet that is printed on the cover: "So far that one cannot see". The artist witholds other ciphers, thus leaving room for listener's imagination – let each listener find his or her own meanings.
Lyrics are read by Jūratė Tamošauskytė and Simas Stankus (2), Sigutis Jačenas (5), Anelė Maskvytienė (7). Vocals: Rasa Ulteravičiūtė ir Kęstas Nevulis (3), Aurika Skardžiūtė (S). Accordion: Jonas Petrauskas (3). Lithuanian national instrument "birbynė", baroque flute, synthesizers, rhythm machines, sampling, programming: Kristijonas Lučinskas. The author of the music and Iyrics: Kristijonas Lučinskas except for (06) where Gražina Urbonaitė reads  from Eduardas Mieželaitis' poem "Tavęs nėra" ("You Are Not Here"). LP "Čia Lietuva". "Melodija". 1981 m. Mixing & mastering: Kristijonas Lučinskas. Recorded in "Soundprovocation" studio, 2007-2008.
| | |
| --- | --- |
| | |